For those of you who have never met me and/or talked to me, I thought I would go back to basics and tell you something about myself and why I set up Sunrise Care Advisers.
These posts come from a presentation that I normally do to small groups and at networking events. I would love you to share your thoughts and memories as well.
Looking back over the last 100 years of my family has helped to give me a perspective of why I now do what I do.
It reminds me that we were all young once and not to forget that when I am working with the families I support and their elderly loved ones.
My Early Years
My parents were farmers. On my fathers' side going back many generations of working on the land. My Mum was a "towny" but had declared at a very young age she was going to marry a farmer (my dad didn't stand much of chance really!). She had hoped to attend Agricultural College but sadly was not able to do. Mum worked as a manager at Lewis's in Leicester before she married. After her marriage, she became a farmer, not a "farmer's wife".
This led to me and my younger sister being brought up on a farm in South Leicestershire. I live in the next village to the one I grew up in. I think like a sheep I am "hefted to the land" as I have spent most of my living and working life in this wonderful county.
I was brought up in a family that valued community and believed you "don't just take; you contribute as well" so my growing up is full of memories of folding raffle tickets and collecting items for various village and local area funding events and parents who supported various organisation etc.
(Picture is of my dad, mum, me (blinking) and my sister)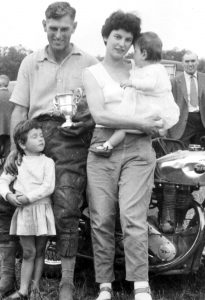 This is something that has informed my life and my major career choices.
My first career in Local Government as an Environmental Health Officer lasted nearly 30 years and I loved it. Although not perfect, I strongly believed (and still do) that encouraging people to run businesses that are safe for their employees to work in, produce food that is safe to eat, provide housing that is fit to live in, prevent noise and pollution from spoiling people's enjoyment of their homes and the environment is a valuable thing to try and achieve.
This career taught me how Local and national Government work and taught me how to study law and understand Acts, Regulations and Guidance. Very useful in the work that I now do.